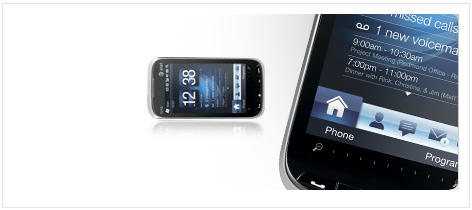 After playing with a few HTC Pure SKU urls I came up with AT&Ts prelaunch information page. Check out the information below.
Check out the real screenshot here!
Go here to order your own real AT&T Tilt 2, you will need to login to AT&T website with your account information.
Pricing on this page shows $349.99, although AT&T said it would be $299.99 in a press release today!
UPDATE 2: I ordered one, it currently shows my order as "Shipped", I'll try to do a review once I get it. This should be sometime Monday
Overview
The HTC Tilt(TM) 2 is the latest Windows Phone from AT&T running Microsoft's Windows Mobile® 6.5 Professional software. The HTC Tilt 2 features a large 3.6″ high resolution tilting color touchscreen so that you can easily explore the Web, review your email, or watch videos. In addition, this Windows phone has a full slide out / slide away QWERTY keyboard that features finger friendly keys for fast and easy text entry. The Tilt 2 offers a unique people focused method of communication with all of your contacts – no longer do you need to start different applications to view or communicate with your friends. You can now easily sort and view any type of communication with that particular contact without having the non-relevant info in the way. View all relevant calls, text messages, email, and even the latest Facebook updates by simply pivoting around a contact and filtering out the information not related to that contact. Download and install the latest applications from AT&T's new AppCenter or discover a new application in Microsoft's new application MarketPlace, or use any one of the applications already installed on this app friendly Windows phone. This powerful and feature rich Windows phone delivers the following features plus many more: aGPS for turn-by-turn navigation using AT&T Navigator or other location-based services, Video Share Calling for live streaming video communications, the HTC TouchFLO 3D user interface for fast and easy access to email, calendar, messaging, pictures, music, weather, stock market and more. The HTC Tilt 2 supports 3G tri-band HSDPA 7.2 and 3.6 for global voice and data connectivity, including Japan and Korea.
Included Accessories
Lithium Ion battery, AC charger, Mini-USB sync cable, Spare stylus, 3.5mm audio adaptor, Screen protector, QuickStart, Companion CD
Features
Voice & Calling
* Advanced Speakerphone with mute button (dual speakers and dual noise / echo cancelation microphone)
* Vibrate
* Silent Mode
* TTY/TDD Support
* Push To Talk
* Voice Dial
* Voice Record
* Voice multimedia messaging
Messaging
* Mobile Email — supports Microsoft Direct Push, Active Sync – scheduled sync and POP3/IMAP4*
* Conversational Text Messaging — send/receive short messages*
* Multimedia Messaging — send/receive messages comprised of text and images*
* Mobile Instant Messaging — download the application then send/receive messages in real time using AOL® Instant Messenger, Windows Live(TM) Messenger, or Yahoo!®*
* MEdia(TM) Net Internet Browsing — gives you access to email, Web sites, games and more on your wireless phone*
* *AT&T service required.
Software & Connectivity
* Stereo Bluetooth® 2.1 with EDR
* Wi-Fi IEEE (802.11b/g/e/i) — access and transfer data
* aGPS supports AT&T Navigator — for turn by turn navigation*
* MicroSD(TM) Memory Card support — store songs and other media files up to 32 GB (microSD card sold separately)
* HTC ExtUSB(TM ) — 11 pin mini USB 2.0, audio jack, and TV Out in one (HTC TV Out cable sold separately)
* *AT&T service required.
Camera & Video
* 3.2 megapixel color camera with auto focus (take panoramic pics and Geo-tag pics)
* Mobile Video (MV) — watch streaming video on your device*
* Video Share — share a live or recorded video during a call*
* *AT&T service required.
Highlights
* Talk, Tilt, Touch, and Type
* Connect seamlessly
* Innovative design
Personalization & Entertainment
* AT&T Mobile Music — includes integrated MP3 music player, MusicID and more*
* AT&T AppCenter & Windows MarketPlace – Downloadable ringtones, Answertones®, games, graphics, and applications*AT&T AppCenter & Windows MarketPlace – Downloadable ringtones, Answertones®, games, graphics, and applications*
* AT&T Wi-Fi
* AT&T Navigator
* PTT
* FaceBook, YouTube, Mobi4Biz, Mobile Banking, MSN Money, MSN Weather,
* My Cast, NewsBreak, Online Locker, WikiMobile,
* WorldCard Mobile, FM radio, JetCet Print 5, Getting Started
* Games: Astraware Sudoko, Astraware boardgames, Bubble Breaker, Diner Dash 2,
* Ferrari GT Evolution, Guitar Hero IV, Ms Pac Man, Scrabble, Solitaire, Teeter
* *AT&T service required.
Organization
* Alarm Clock
* Calendar
* Weather & Stock Updates
* Calculator
* Tasks
* Search
* File Explorer
* Notepad
* Voice Recorder
* MS OFFICE Mobile (Word, Excel, OneNote, PowerPoint)
Specifications
* Dimensions: 4.54 x 2.33 x 0.65 inches
* Weight: 6.30 ounces
* Battery: 1500 mAh Li-Ion
* Talk Time: Up to 8.5 hours
* Standby Time: Up to 20 days
* Technology: GSM/GPRS/EDGE/HSDPA/UMTS*
* Frequency: 850/900/1800/1900 MHz (GSM/GPRS/EDGE); 850/1900/2100 MHz (HSDPA/UMTS)*
* Data Transmission: 3G
* Operating System: Windows Mobile® 6.5 Professional
* Memory: 512 MB ROM, 288 MB RAM
* Display: 3.6 inches Color TFT LCD, flat touch sensitive screen with WVGA (480 x 800) resolution
* TTY Compatible
* Hearing Aid Compatible
* *AT&T service required.